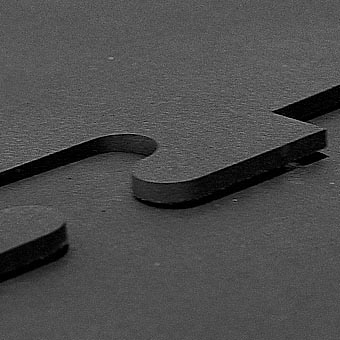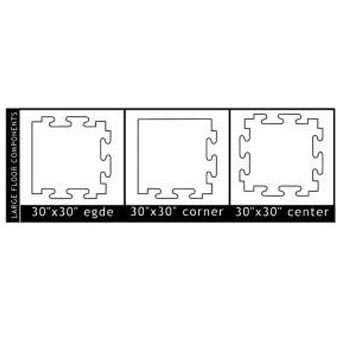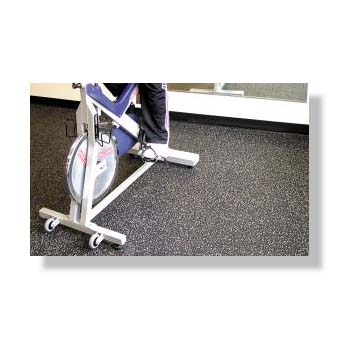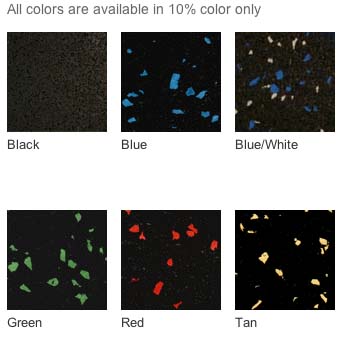 Applications:
Weight Rooms
Ice Rinks
Golf Course
Runways & Paths
Ski Lodges
Locker Rooms
Spike Protection
Baseball Areas
Cardio Decks

This product is shipped via freight delivery.
Please review our
shipping disclaimer.
Features:
Manufactured Entirely within the USA
Manufactured of 100% Premium Recycled Rubber
Factory Sheared edges and controlled manufacturing environments ensure an easy installation
Can be used indoors and outdoors
Easily Cleaned
Almost seamless interlock pattern that does not compromise the mat's strength
A super sized tab that is a full 6 3/8" wide and 4" deep
Color Fleck Options at 10% Color
Characteristics:
Non Slip - Excellent traction, even when wet!
No Odor
No Adhesive Required
Size and Dimensions:
Material: 100% recycled rubber
Size: standard - 30" x 30" Tiles in Edge, Corner and Center (custom sizes also available)
Thickness: 3/4" or 1/2"
Weight: 4.0 lbs / 3.0 lbs. per Sq. Ft.
96 SF minimum order - except for 1/4" thickness 4x10 ft Home Rolls - Order the Home Rolls Online
Pricing for Mega Lock Rubber 1/2 Inch
100% Black

On Sale Now




$17.32

per piece - $2.77 per SF
Was:$19.69 per piece

You Save 12%

10% Color Flec

On Sale Now




$21.00

per piece - $3.36 per SF
Was:$23.44 per piece

You Save 10%

1000 SF +
Request A Quote
Pricing for Mega Lock Rubber 3/4 Inch
100% Black

On Sale Now




$18.16

per piece - $2.91 per SF
Was:$20.63 per piece

You Save 11%

10% Color Flec

On Sale Now




$23.07

per piece - $3.69 per SF
Was:$25.82 per piece

You Save 10%

1000 SF +
Request A Quote
All colors are available in 10% color only

Black


Blue


Blue/White


Green


Red


Tan

Customers who viewed this item also viewed: