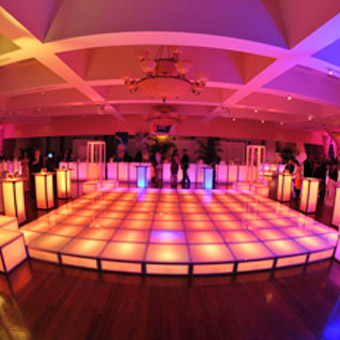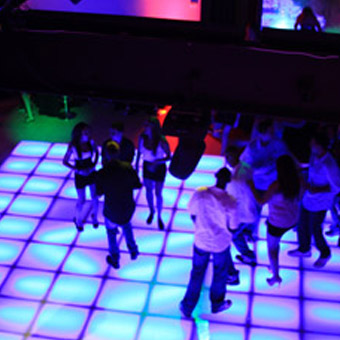 LED Dance Floor - Durable Light Up Dance Floor Panel Solution
Average Cost for LED Dance Floor
10x10 ft
$11,500 + Shipping
10x20 ft
$23,000 + Shipping
20x20 ft
$45,000 + Shipping
Install this LED dance floor on any hard surface. This light up system is surprisingly easy to install and setting it up is a relatively quick job. A 20x20 ft area generally takes only about two hours to load in and set up with a small crew. There are no tools necessary to install our LED dance floor - a series of metal clips are used to connect the 2x2 ft panels together.  Each 2x2 ft x 8 inch section weighs only 21 lbs making it easy for anyone to install.

Astera's wireless pixel tube is a revolutionary LED dance floor tube which can operate wirelessly for more than 12 hours. With our Astera remote control, the LED tube can be easily managed, separated into multiple pixels, or synchronized with other Astera lighting objects.

The pixel LED tube can be inserted into design objects like balls, tables, tiles etc.  For large-scale event decoration, several tube lights can be programmed together to display complex lighting structures and create stunning ambient lighting.

The LED Dance Floor is very easy to clean. The best way to clean the illuminated dance floor is Windex and paper towels or rags, for scuffs we suggest the Magic Eraser that is available in any grocery store.

Start a lighting revolution in your club or event center with Astera LED dance flooring.

This product is shipped UPS or FedEx Ground and or via freight delivery
Please review our
shipping disclaimer.
This product is non-returnable.
Lighting:
Astera Smart Lighting. 40" RGB LED Wireless Tube light. This lighting offers Color Static, Color Fading, Strobing Color, Chasing Colors, Targetable control of each Light.
After an 8 hour charge the lamp will run on an internal LI-ION battery that is rated to last 12 hours or more. For permanent applications the lighting can be operated via ac/dc power.
DMX controllable via a DMX converter that plugs into any DMX output module.
Remote Control
After an 8 hour charge the lamp will run on an internal LI-ION battery that is rated to last 12 hours or more. For permanent applications the lighting can be operated via ac/dc power.
DMX controllable via a DMX converter that plugs into any DMX output module.
Remote Control
Specific Product Details
Average Cost for LED Dance Floor
10x10 ft
$11,500 + Shipping
10x20 ft
$23,000 + Shipping
20x20 ft
$45,000 + Shipping
Customers who viewed this item also viewed: