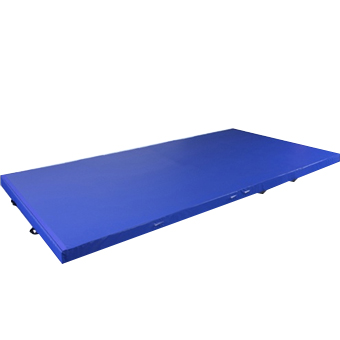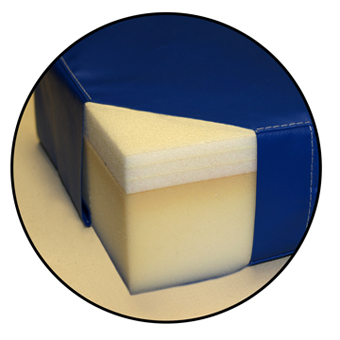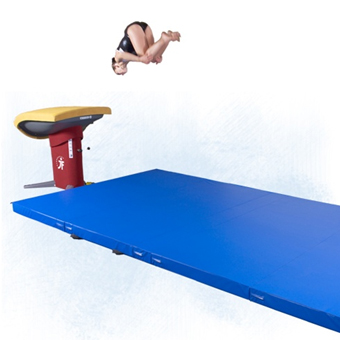 Our gymnastics competition landing mats are custom made to order by a leading nationwide gymnastics mat manufacturer in the USA. Choose these gymnastics landing mats for the durability and longevity these landing mats will offer your program. Competition landing mats feature an 18 oz vinyl cover with a matted texture. All landing mats have a double-stitched top edge and a number 10 YKK molded zipper. Included are 2-inch thick polyester web handles for easy moving of these competition landing mats. Hook and loop fasteners are featured on all four sides.

These mats are not recommended for outdoor use as they are not waterproof and are not UV stable.

Applications:
School Gymnastics Programs
Gymnastics Professional Training

This product is shipped via freight delivery
Please review our
shipping disclaimer.
Premium 18 oz. "Matte Textured" vinyl coated polyester
Double stitched top edge and #10 YKK, molded zipper
2" polyester web handles for easy moving
All Competition Landing Mats are manufactured in Royal Blue Only and have "Hook and Loop" attaching systems on the ends for attaching.
One-piece 18 oz vinyl tops (no heat sealed top seams insure years of use !!)
Seamless top surface is perfect for all landings !
Top Layer of premium 2# Cross linked Polyethylene Foam (1-3/8" thick) is laminated to the bottom polyurethane layer
Bottom  layer is 1.8# density , 55 ild Polyurethane Foam (most competitors use a 1.54# density!!)
Double stitched edges and 4" loop fastener sewn to all mat widths for easy and secure "mat-to-mat" attaching
Orders for 2 or more mats will include a Hook and Loop Connector Strip
Pricing for 12 cm Folding Competition Landing Mats
12cm x 6' x 12'
Bi-Fold
$725.00
12cm x 6' x 15.5'
Quad-Fold
$877.00
12cm x 7.5' x 12'
Bi-Fold
$838.00
12cm x 7.5' x 15.5'
Quad-Fold
$1,108.00
12cm x 8' x 12'
Bi-Fold
$879.00
12cm x 8' x 15.5'
Quad-Fold
$1,180.00
12cm x 8' x 18'
Quad-Fold
$1,301.00
Pricing for 12 cm Non Folding Competition Landing Mats
12cm x 6' x 12'
Non-Fold
$631.00
12cm x 6' x 15.5'
Non-Fold
$761.00
12cm x 7.5' x 5'
Non-Fold
$344.00
12cm x 7.5' x 12'
Non-Fold
$781.00
12cm x 7.5' x 15.5'
Non-Fold
$946.00
Pricing for 20 cm Folding Competion Landing Mats
20cm x 7.5' x 12'
Bi-Fold
$1,008.00
20cm x 7.5' x 15.5'
Quad-Fold
$1,352.00
20cm x 8' x 12'
Bi-Fold
$1,078.00
20cm x 8' x 15.5'
Quad-Fold
$1,423.00
20cm x 8' x 18'
Quad-Fold
$1,533.00



Blue



Customers who viewed this item also viewed: