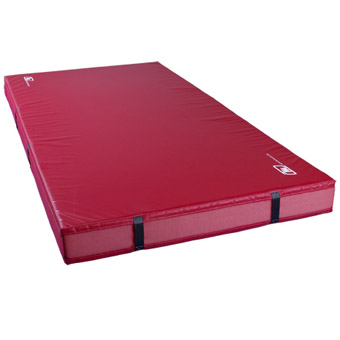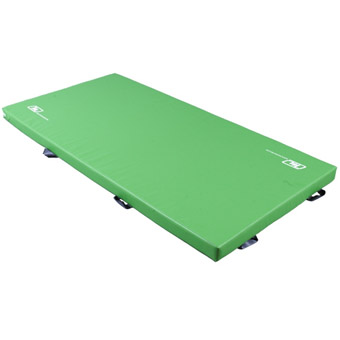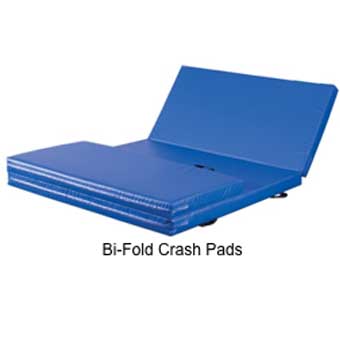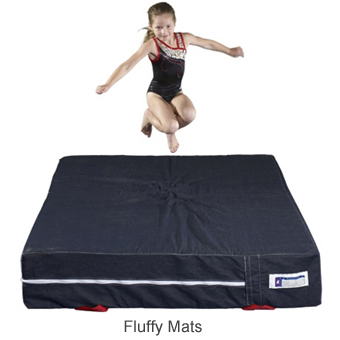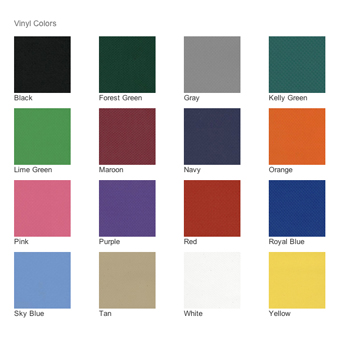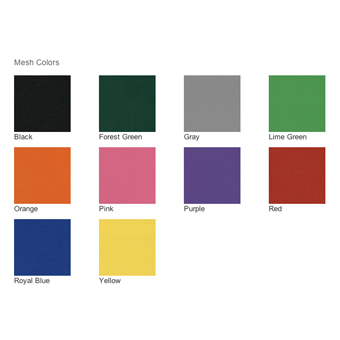 The vinyl used with this product is 6P compliant for Phthalates and Lead Free, and meets California state law Proposition 65 requirements.
Single Fold Skill Cushion Mats have one fold in the middle of the mat and are available in many thicknesses and sizes. (Please see our pricing chart.) Bi-Fold Skill Cushion Mats have two folds and are available in larger sizes.

Fluffy Mats-This denim covered mat is perfect for skill work where the athlete is repeatedly landing on his or her stomach or back while learning a skill. Used around bars and vault for releases and timers, your athletes will love it. Soft foam and cover take away the slap and sting of landing on a traditional 8" safety mat. Easier to move around the gym than a modular pit. Tough, durable cover and high-density foam give this mat a long productive lifespan in any gym. Size is 12" thick by 60" by 80".

"Softy Mat" Landing System Need a softer landing for your students? Our custom formulated polyurethane foam creates the perfect "pillow soft" landing.

Safety Pits Mats The ultimate in safety, our latticework foam construction design is available in either a 24" or 32" thickness. Our pits can either be placed into your in-ground pit area or used above ground throughout the gym wherever a softer landing is needed. Pits are covered in premium 18oz vinyl coated polyester with full Breather Mesh sides for maximum air expulsion. Hook & Loop fasteners and attachment buckles are optional. The vinyl used with these products is 6P compliant for Phthalates and lead free. It meets California state law Proposition 65 requirements.

These mats are not recommended for outdoor use as they are not waterproof and are not UV stable.

This product is shipped via freight delivery
Please review our
shipping disclaimer.
Features:
Foam: 1.8 lb density x 50 ILD polyurethane
Cover: 18 oz vinyl coated polyester surface
Heavy duty #10 YKK zipper
2" polyester web handles on all sides
Single Fold and Bi-Folding Styles Available
Pricing for Landing Mats
4x6 ft x 4 inch 18 oz
$204.00 per piece
4x6 ft x 8 inch 18 oz
$315.00 per piece
4x6 ft x 12 inch 18 oz
$356.00 per piece
4x8 ft x 4 inch 18 oz
$244.00 per piece
4x8 ft x 8 inch 18 oz
$381.00 per piece
4x8 ft x 12 inch 18 oz
$452.00 per piece
5x10 ft x 4 inch 18 oz
$336.00 per piece
5x10 ft x 8 inch 18 oz
$554.00 per piece
5x10 ft x 12 inch 18 oz
$634.00 per piece
6x12 ft x 4 inch 18 oz
$505.00 per piece
6x12 ft x 8 inch 18 oz
$810.00 per piece
6x12 ft x 12 inch 18 oz
$971.00 per piece
Pricing for Single Fold Landing Mats
Single Fold 5x10 ft x 4 inch 18 oz
$400.00 per piece
Single Fold 6x12 ft x 4 inch 18 oz
$569.00 per piece
Single Fold 5x10 ft x 8 inch 18 oz
$614.00 per piece
Single Fold 6x12 ft x 8 inch 18 oz
$838.00 per piece
Single Fold 6x12 ft x 12 inch 18 oz
$1,015.00 per piece
Pricing for Bi-Fold Landing Mats
Bi-Fold 5x10 ft x 4 inch 18 oz
$434.00 per piece
Bi-Fold 5x10 ft x 8 inch 18 oz
$651.00 per piece
Bi-Fold 6x12 ft x 4 inch 18 oz
$640.00 per piece
Bi-Fold 6x12 ft x 8 inch 18 oz
$893.00 per piece
Bi-Fold 6x12 ft x 12 inch 18 oz
$1,060.00 per piece
Pricing for "Softy Mat" Landing System
16" x 6' x 8'
$887.00 per piece
18" x 7' x 14'
$1,773.00 per piece
Pricing for Fluffy Denim Gymnatsic Mat
60 x 80 x 12 Inches
$368.00 per piece - $11.15 per SF
Vinyl Colors



Black






Forest Green




Gray




Kelly Green




Lime Green




Maroon




Navy




Orange




Pink




Purple




Red




Royal Blue




Sky Blue




Tan




White




Yellow
Mesh Colors



Black






Forest Green




Gray




Lime Green




Orange




Pink




Purple




Red




Royal Blue




Yellow
Customers who viewed this item also viewed: