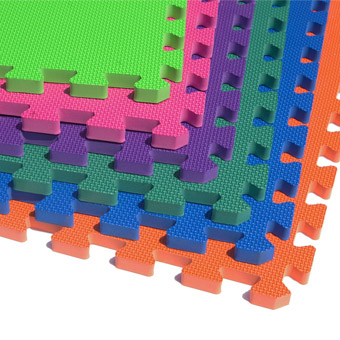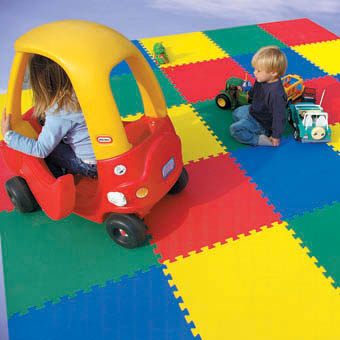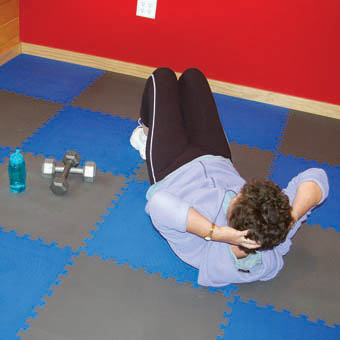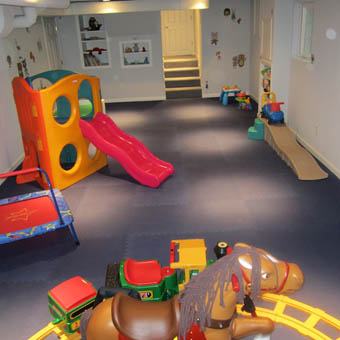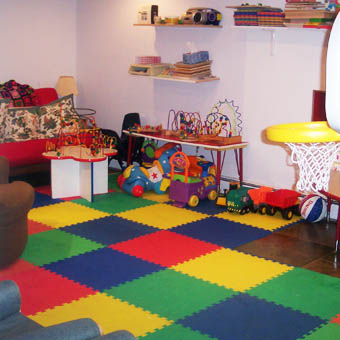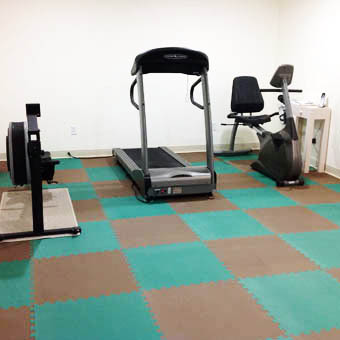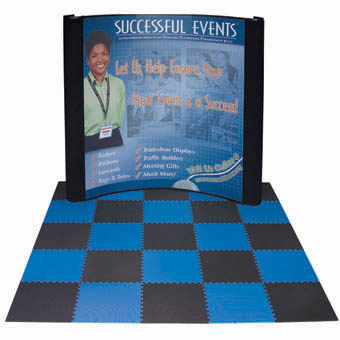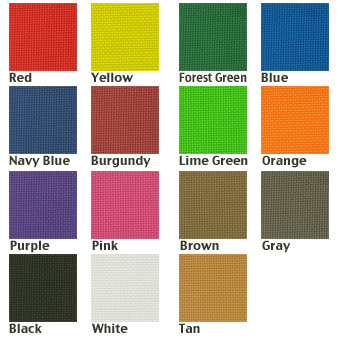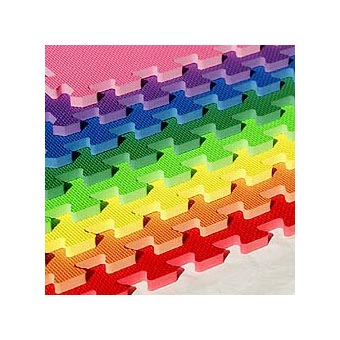 The top texture of these foam floor mats feature a thatch design that is resistant to scuffing. Turn any room into a safe and soft foam mat surface with a brilliant and defined look using a variety of wonderful colors with this foam mats product.

These foam mats are a premium quality product that is made from EVA foam material that can turn a basement or den into a playroom or indoor sports area. Our brilliant color options for these foam mats will allow you to mix and match to fit your decor or get creative with your foam floor mats. Use our interactive online room designer to easily create scaled room layouts and design color options with these premium interlocking foam mats.

This 5/8 inch premium foam mat is 15 mm thick. This is the thickest 5/8 inch foam mat you will find in the marketplace. Other 5/8 inch foam mats advertised are only 14 mm thick which is closer to 1/2 inch material. Our premium 5/8 inch foam mat is 2x2 feet and comes with two border strips per foam mat. This makes it easy to create island layouts with finished borders. These foam mats are easily cut with a sharp utility knife for a convenient wall-to-wall installation. This foam mat product is offered with a 1-year manufacturer's warranty against product defect and can be expected to last for 10 years or more in normal residential applications when cleaned and cared for on a regular basis. Greatmats stocks many thousands of square feet of this and similar foam mat products for large-scale commercial and athletic projects.

If this particular foam mat is not perfect for your application or budget, please consider one of our other foam mats. We offer a complete and comprehensive line of interlocking foam mats with some starting at $0.99 cents per square foot. Some foam mat products are offered with free shipping. Please browse our complete line of puzzle foam mats. If you have questions, please chat with us online, send an email, or call our friendly customer service center to speak with one of our flooring experts about our foam mats.

Coming soon are a new type of interlocking soft EVA foam mat that will feature a double sided double color design, such as blue on one side and red on the other. These new double color mats will have similar colors as the foam mats on this page and will offer a similar overall thickness. The top surface texture of this new foam mat product will have a cross thatch top and an embossing pattern on the other side.
All About Foam Mats
Foam mats can be used in exercise rooms, we offer our standard 5/8 inch foam mat in 15 colors or many people will choose to upgrade to our Home Sport and Play foam mat that is 7/8 inch thick with 3 color combinations which are all double sided and double color. Most of our foam mats are an interlocking style and are light weight and easy to ship via ground service, which can save money vs a freight delivery especially for residential customers. The interlocking foam mats are easy to cut with a sharp utility knife for a custom wall to wall installation.

Foam mats for kids play rooms can be made safe, soft and comfortable with Greatmats interlocking foam mats. Your entire space can be filled with colorful puzzle foam mats wall to wall with customer colors. If you have a girl consider Purple and Pink, for boys consider a Blue and Green combination. Whatever your choice, our interlocking foam mats in 5/8 inch thickness will be a wonderful addition to your child's floor play area in your house.

Exercise room foam mats is another very popular place our customers install our premium 5/8 inch interlocking puzzle foam mats. In this type of home gym location consider more mature colors such as Brown and Burgundy or Tan and Green. Try our foam mat floor planner to design your layout to scale. When using a foam mat for an exercise room floor you have a few things to consider, typically exercise equipment will leave some level of indentation in the foam mat however this will not hurt the material. Any indentations in the foam will take about the same amount of time to heal or return to normal similar to the amount of time the foam mat was indented.

Basement flooring foam mats can turn any hard and cold floor into a comfortable, warm and soft floor full of color and design that the entire family can enjoy. Dull and hard basement floors will bounce to life when an interlock foam mat floor is installed, bring bright colors, design and safety to your basement with Greatmats puzzle foam mats. These foam mats are waterproof and made of closed cell EVA foam which means that no mold or bacteria from a damp floor could penetrate into the foam mats. The foam mats will act like a vapor barrier to any potential moisture coming up through a concrete floor. You can perform a simple moisture test by taping a sheet of 3x3 foot piece of clear plastic to your floor using duct tape, and check the area in about three days for signs of moisture inside the plastic.

Trade show booth foam mats When our customers have to stand for hours at a time, they are very thankful for foam mats in a trade show booth or events booth location. Our premium foam mats in 15 brilliant colors come with two border strips attached, so that each 2x2 foot foam mat can be either a center, a border or a corner piece with no wasted material. It is each to create a 10x10 foot trade show booth layout with 25 foam mats which will easily fit into one carton. A 10x20 foot trade show or special events booth would require 50 foam mats, while a 20x20 ft trade show booth will require 100 foam mats. Easily clean the foam mats on a daily bases with a broom and a Swiffer®. Consider a hard plastic cargo ready carrying case to transport and store your foam mats for years of use. We have many sizes of cargo ready durable plastic event carpet carrying cases to choose, from 2x4 to 4x4 foot sizes and all the way up to cases that carry 200 foam mats for a 40x40 foot booth.

This product is shipped UPS or FedEx Ground and or via freight delivery.
Please review our
shipping disclaimer.
Applications:
Exercise Rooms
Children's Play Areas - Home and School Use
Trade Show Booths, Conventions and Showroom Flooring
Basements and Garages
Indoor Sports & Multipurpose Rooms
Great for Concrete and Hard Surfaces
Features:
Lead Free and Latex Free
Top Quality Material
15 Colors to Choose - Very Strong Colors
2 Border Strips Included
Interlocking 2X2 Ft. Tiles x 5/8"
30-35 Shore C Hardness Rating - for durability
Characteristics:
Anti-Fatigue
No Odor
Waterproof
No Adhesive Required
Size and Dimensions:
Tile: 24" x 24" x 5/8" - thickness tolerance of 1 mm + or -
Each foam mat covers 4 Square Feet
Additional Features:
Wide range of brilliant colors available. Mix and match to create any layout or design.
Color is solid through entire mat.
Border strips are included in the price to create a finished, smooth edge on the outside of mat area.
The edge is not beveled down, it is a straight 90 degree edge. The straight edge will not present a tripping hazard.
Easy to install, easy to take up, lightweight and portable.
Easy to clean. Can be vacuumed and washed with soap and water - test your vacuum
Anti-Fatigue Relief
Place directly on concrete or tile - no adhesive needed for a snug, tight fit.
Waterproof and odorproof. Closed cell EVA foam will not absorb moisture or other substances.
Anti-fatigue and insulative value similar to carpet.
Expand Your Floor as Needed
Can be used outside in mild climates, not UV stable, not suitable for extreme sunlight locations.
Exercise equipment will leave some level of indentation in the mats, but will not hurt the mats. The indentations will be virtually permanent.
Made in Taiwan
Additional Information:
Have your vacuum cleaner set at highest setting or just use hose and nozzle. Don't use power head.
High Heels can puncture the foam mats - for high heels we recommend to use our
Royal Interlocking Carpet Tile
.
For aerobics use do not place onto of carpeting, as foam mats can shift.
Premium foam mats are not suitable for power lifting or dropping weights.
Rubber flooring
weight lifting mats will be needed for most free weight applications.
When the foam mats interlock together they will lose about 3/8" per tile.
When used outside the foam mats may expand and curl if exposed to direct sunlight in warm climates for extended periods of time.
Test your vacuum on the foam mats to make sure your vacuum will not leave scratches.
Color and shade may vary somewhat from foam mat to foam mat within the same order, this is common with this type of EVA foam mat material.
Allow the foam mats to acclimate to your room before installation. Allow an expansion gap when cutting the foam mats to fit wall to wall. The foam mats can expand with changes in heat and humidity.