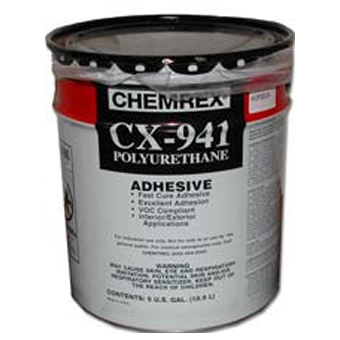 The patented formula is VOC compliant and it contains no solvents or water, so it will not cause wood to expand. CHEMREX® CX 941 Floor Adhesive provides excellent initial green strength and outstanding bond strength.

Applications:
Recycled rubber tiles
Laminated hardwood flooring
Solid hardwood planks
Parquet flooring
Rubber tiles
Cork flooring and underlayment
Stair treads
Stair nosing
Transitions
Code-approved subfloor application
Underlayment grade OSB
Please Note:
Please wear protective gloves when using the CX-941 Adhesive product - as if any glue gets on your hands we have no products to recommend for removal of the glue from your skin.

This product is shipped UPS or FedEx Ground and or via freight delivery.
Please review our
shipping disclaimer.
This product is non-returnable.
Location
Substrate
Concrete
Plywood
Particle or chip board or scarify
Cement and gypsum underlayment
Radiant heat flooring
Asphalt
Pricing for CX 941 Floor Adhesive
5 gal. pail - 57 lbs per pail - coverage of 400 SF approx.
$203.25 per piece
2 gal. pail - 25 lbs per pail - coverage of 160 SF approx.
$90.00 per piece