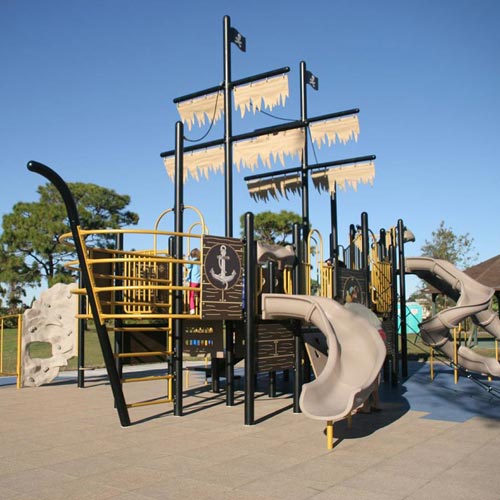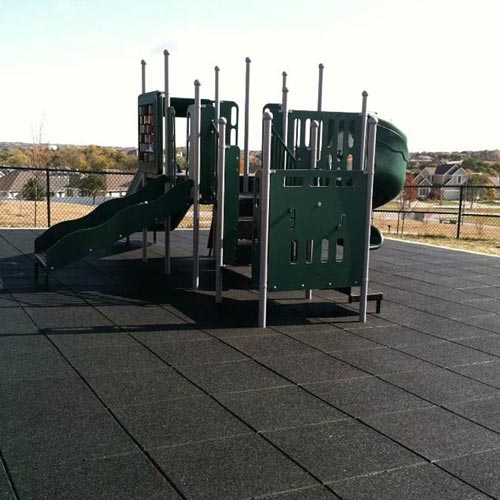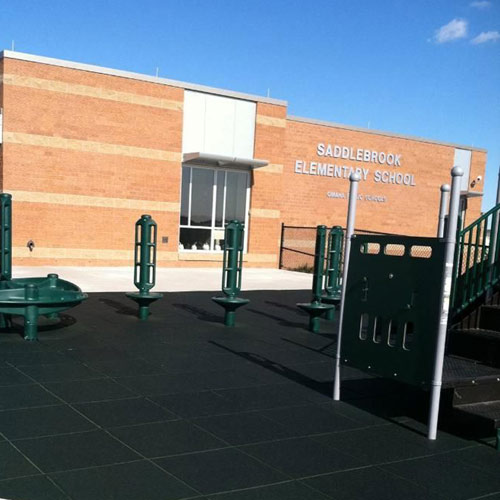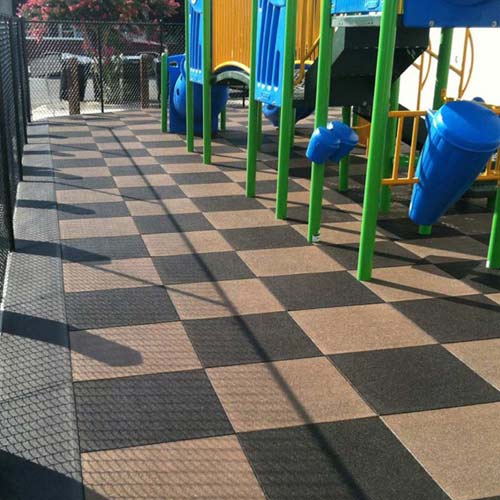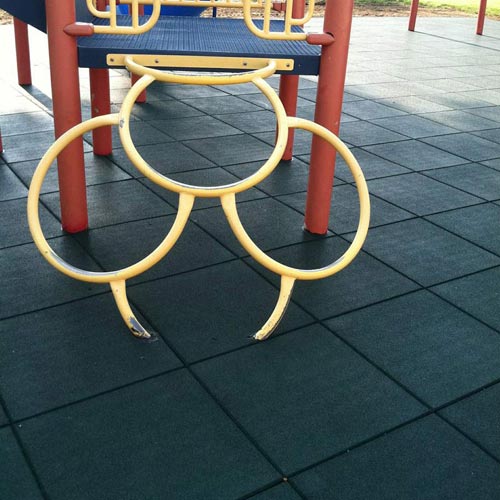 Blue Sky Playground Interlocking Tile 2ft x 2ft x 2.75in Standard Top
SKU# RD-6Tile-S
On Sale
Reg: $39.95 per Tile
$29.95 per Tile $7.49 per SF
Ships out 2-4 Weeks on Average
Ship times are typical, inquire for immediate availability.
Please request volume quote over 500 SF
Use Types
Playground Flooring Tiles, Interlocking Safety Surfacing Outdoor Playgrounds, Indoor Playground Surfaces, Rubber Interlocking Playground Tiles
6 Ft fall height ASTM rated, this playground tile offers a great value, interlocking outdoor rubber playground safety tile. Ships from East coast. Playground tile 2 x 2 ft x 2.75 in standard colors rubber playground floor tiles manufactured in the South East region of the USA.
Blue Sky Playground Tile 2 x 2 ft x 2.75 inch standard colors, 6 Ft fall height rated. This playground tile is great for Southern and Eastern customers. Made from high quality rubber material this playground floor tile feature fall height ratings and is available in many colors.

These interlocking rubber playground floor tiles are manufactured in the Southeast region of the USA. This rubber playground tile is a great option for Southern and Eastern customers. Made from high quality rubber material this outdoor playground floor tile features ASTM tested fall height ratings and is available in many colors.

This product line is available in many color options and thicknesses ranging from 1.75 to 3.75 inches, covering up to a 10 ft fall height rating. This product line offers standard colors, 50/50 high color and 100 percent high color options. Standard colors are the most economical choice for this outdoor rubber playground flooring tile.

Bluesky Interlocking Rubber Playground Tiles are another alternative for safety surfacing that have been tested for the required fall height attenuation and exceeds ASTM and CPSC guidelines. Bluesky Interlocking Rubber Playground Tiles are easy to maintain. These tiles will not mold, mildew, and resist fading. Bluesky Interlocking Rubber Playground Tiles have been engineered to have an innovative impact design to provide HIC ratings under the required guideline which will provide a significant safety margin to ensure that your surface will remain compliant through the life of the playground. The tiles undergo a strict quality control review by weight, temperature, thickness, and dimension. Most importantly, each of the Bluesky Interlocking Rubber Playground Tiles are individually tested for performance and for structural integrity through a sophisticated series of load compression tests. This assures the quality of the tiles and ensure that the customer is receiving a high performance product.

Bluesky Interlocking Rubber Tiles are designed with a proprietary compression molding process. This unique process allows the top wear course of the tile to be compression molded to a significantly higher density when compared to competing products. Bluesky Interlocking Rubber Playground Tiles engineered impact arcs relies on proven architectural techniques to create the necessary fall protection, ensuring that the top surface can be made extremely durable without compromising the tiles' resilient properties and exceptional safety characteristics.

Manufacturing highly durable surfacing tiles is more than just product design. We use only the highest quality materials provided by the premier suppliers in the rubber and polyurethane industries. All materials are certified by our vendors to meet or exceed our stringent specifications, and all raw materials that enter into our system are cataloged through retained samples for quality control purposes. Our quality management system extends to the design, production, installation, and servicing of all of our products and is carefully documented in our Quality Assurance Manual, procedures, standards, and operating instructions.

Over the past two decades, continual advancements in our interlocking design technology has provided customers with solutions to the challenges associated with most modular surfacing systems. Our design represents the pinnacle in locking design technology, ensuring that when properly installed, the system will remain tight, secure and vandal-resistant through years of heavy use.

Bluesky Interlocking Rubber Playground Tiles are not only aesthetically pleasing but offer a simpler way to repair and maintain in high traffic areas. Bluesky Interlocking Safety Tiles are available in various colors including EPDM colors to let your creativity run wild. Available in various sizes and colors.
Maintenance
For regular cleaning damp mop with hot water and a neutral Ph cleaner, such as Taski Profi.
NOTE: This item is a custom order and is not returnable.
Shipping
Ships via freight delivery only on pallets only. Residential deliveries require delivery notification and lift gate service, which will to added at time of shipping calculations. Business to business deliveries with a loading dock, do not require lift gate.
This Product Ships Freight and/or FedEx Ground.
Please review our shipping disclaimer.
Material: Rubber
Material Density: Shore A 48
Type: Tile
Country of Manufacture: USA
Tile Size: 2x2 ft
Thickness: 2.75 inch
Connection: Interlocking
Universal Interlocks: No
Weight per: 30 pounds per tile
Edge Type: Interlocking
Packaging: Pallets
Ordering Minimum: 50 Tiles
UV Treated: Yes
Stocked: No
Non Absorbent: Yes
Ships Out From Warehouse: 2-3 weeks
Warranty: 10 Years Limited
Border Strips: Reducers Available
Installation: Interlocking, Dry Lay
Special Adhesives: Yes
Top Texture: Flat
Loss Per Tile: None
Reversible: No


| | |
| --- | --- |
| Product Tile | Tile |
| Material Type | Rubber |
| Product Edging | Interlocking |
| Thickness | 2-3/4 inch |
| Width | 2.00 feet |
| Length | 2.00 feet |
| Weight | 30.00 lbs |
| Universal Interlock | No |
| Interlock Loss | 0.00 |
| Material Density | Shore A 48 |
| Interlocking Connections | Yes |
| Made In | USA |
| Order Minimum | 50 |
| Surface Finish | Smooth |
| Surface Design | Solid Color |
| Installation Method | Dry Lay, Interlocking, Glue at Tabs or Full Glue |
| UV Treated | Yes |
| Reversible | No |
| Border Strips Included | No |
| Leed Points | Yes |
| Manufacturer Warranty | 6 Year Limited |
View Installation Instructions PDF
View Cleaning and Maintenance PDF
View Specifications Data Sheet PDF
View Substrate Preparation Installation PDF
View U Lock information PDF
Related Products: